Keeping it Real
The word "authentic" comes up again and again in leadership, business and in marketing.  In the latter, strong emphasis is placed on telling your story.  Why?  Because being authentic and telling your story are very important ways for your stakeholders and customers to determine if you're the right fit for what they want or need.  Being authentic is a good thing.  It can demonstrate integrity and build trust.
But when a word is used so often, inevitably there are misrepresentations, misuses and abuses.  So how do you focus on being "authentic" as a brand?  How do you differentiate from those who make false statements?  Start by clarifying what authentic means.
What Does Authentic Mean?
According to the Cambridge Dictionary, authentic is defined as being what it is claimed to be; genuine.  In more common terms we might add: real, honest, true, verified, reliable, trustworthy, dependable, accurate, credible.  That's quite a list of admirable qualities.
To demonstrate this credibility and genuineness requires developing comfort with a level of transparency.  Your business, your brand, your service and what you deliver should align with what you say they are.  This doesn't mean absolute perfection.  It's not possible to be perfect. Human interactions will always have a margin of error.  But it is possible to be real and honest… even when you're not perfect.
For this authenticity to develop for a brand, it must first develop for the organization's leadership.  If leaders are honest and transparent with staff, they can expect the same from their teams.  Over time with consistency, this builds a culture where being truthful is respected and expected – with leaders, with teams, with clients, with vendors.  A culture that values being truthful and keeping promises will develop a stronger brand promise and work hard to keep it for customers.
Characteristics of an Authentic Brand
When your company is driven by passion, purpose, and a desire to stay true to your story authenticity comes more naturally.  Your team will understand and demonstrate:
Who You Are – your story, your purpose, your values
What You Do – the problem you solve through products or services
Who You Serve – and what matters to them
Your brand promise will be of more value and your team will know how to keep that promise.  They will not just follow policies and rules, but will understand why certain choices are "just not us" and others are "just how we roll."  Authentic brands develop internal brand ambassadors – often attracting better employees who are empowered to take ownership of the brand experience.  Authentic brands:
know who they are and stay true to that
make adding value a priority
make promises they can keep honestly – and keep them
excel in customer service and care
do "the right thing" – even when things go wrong
remain accountable to customers and stakeholders
listen to customers and value feedback
strengthen consistency across all channels and interactions
Benefits of an Authentic Brand
Developing your brand voice and story in an authentic way allows you to experience the many benefits for your business:
stronger differentiation from competitors
greater brand recognition
increased trust and brand loyalty with customers/fans
brand personality that is relational and drives success
greater understanding of value to clients/customers
attract better employees
increased employee satisfaction and reduced turnover
your clients become your advocates
focus on your passion and mission enable you to make a difference
You Can't Just Fake It
When you're "faking it" your passion, purpose, and mission are sabotaged by urgency for cash, sales or other demands.  You're not being "real" and genuine, so eventually the facade will crack and you'll cross a line you don't want to.   Fakers don't have a values-based perspective.  They are seen as selfish, greedy and opportunist.  This undermines brand trust, erodes influence and reduces value and quality in the eyes of consumers.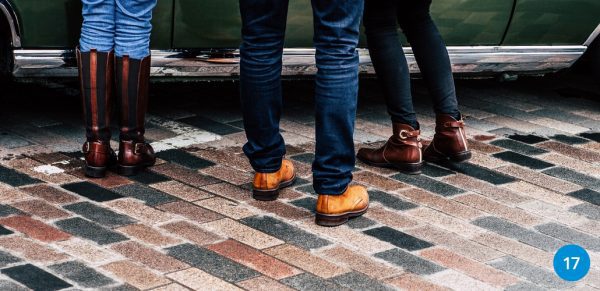 Why We Wear Jeans Everyday
Our digital marketing agency allows (and even encourages) our team to wear jeans every day.  Why do that?  It stems from who we are.  It's part of our team personality and it's an authentic extension of my personality as founder of the agency.
I'm not hung up on fancy titles or 3-piece suits.  I don't believe the "clothes make the man" or the woman – and neither does a job title.  What speaks the loudest is the value we bring to others.  We do our best when we are free to be ourselves, daring enough to be creative and working together in a spirit of collaboration.  I don't need to sit at the head of the table and have a fancy name plaque.  I usually sit on the side and ask questions.  I wear jeans and boots to work almost every day of the year.  Our culture shows in our teamwork, in our office, in our brand, and in our work… we skip the stuffy suits and go after innovative ideas.
We may not be the right fit for every company.  And frankly, we're OK with that.  We have great satisfaction working with clients who are a good fit, and they have greater success as a result, too.   The right fit matters.
The Bottom Line
Developing your own unique brand that's authentic – genuine and real – empowers you to make clearer decisions, offer more value and connect with your best-fitting customers for greater mutual success.  It can take time to develop a brand this way, but it's worth it.  Engaging professional help for brand audits and development can make a big difference.
Tackle your brand head on.  Be transparent and take steps to define and promote your authentic brand through your website, social media, marketing and promotional efforts.   Tell your [real] story.  It will pay you back.
Save
Save
Save
Save
Save
Save
Save