For years website and search engine optimization professionals have focused on robots, keyword tags and search algorithms.  Every Penguin or Panda update release from Google has created waves in the industry.  Undeniably, these factors are part of the equation for SEO, search rank and traffic generation.  But many businesses and experts have gotten so focused on the search engine robot (crawler) that they have forgotten someone even more important:  the human searcher.
Search
Humans

vs Search

Engines

Ask yourself who are you trying to rank well for?  You're not attracting engines, you're attracting searchers. Searchers are people.  People buy your products, use your services, and when delighted recommend you to others.  If you skip optimizing your site for the human user experience, you will have unhappy users and weaker performance in search engine results.   Why?  Google wants to give users relevant results and great experiences.
---
"When users are happy with your website, a positive experience is created, both with the search engine and the site providing the information or result." — MOZ Guide to SEO
---
SEO Done Just for Crawlers is Creepy
Sites that are overstuffed with keywords, have artificially or badly placed components, employ unnatural links, or are overloaded with text ads do not read well or make users happy.  They're obviously aimed at search engine crawlers, and some are just plain creepy for humans.
People using search engines are looking for specific content or things to do online.  If they click a listing and get something they don't want – or even worse, something deceptive – they are unhappy and leave.  That's a failure for the website and a failure for the search engine.  However, if they get exactly what they are looking for, they're happy and stay.  That's a win for the optimized site and a win for the search engine.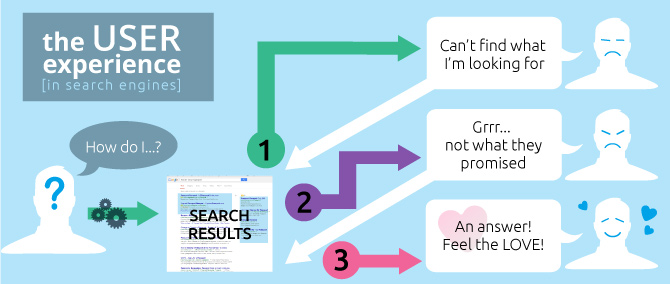 Bottom line – think user first.  If you have happy people finding what they want and need on your site, that's a positive experience.  That makes a happy search experience.  And that makes a happy search engine.
---
Happy users (people) make a happy search engine!
---
Search Engines & Bots (no.2)
Once you've established what your users want to experience on your site, the next step is to provide that experience with search engine best practices in mind.  These best practices should enhance the user experience, not detract from it.
---
"The search engines constantly strive to improve their performance by providing the best possible results. While "best" is subjective, the engines have a very good idea of the kinds of pages and sites that satisfy their searchers." MOZ
---
A page that is properly optimized should include high quality information on a specific topic (a product or single subject).  It's content should be unique, credible and stay on the subject of the page.  The topic of the page (specific keyword phrase) should be included in the following places:
In page title tag
in the URL (ex:  www.mysite.com/wooden-highchairs/)
in alt text for images on the page
mentioned on the page several times in a manner that reads normally
All pages on a site should have easy to use navigation that includes links to the home page, main pages, and categories/subcategories for products or topics.  It's helpful if the site is professionally designed for engagement and accessibility in modern browsers  on multiple devices like desktops, laptops, tablets and smartphones.
Having these on-page SEO elements in place helps users navigate your site and helps Google and other search engine bots crawl your content as well.
Start with Simple Adjustments
Optimizing your website for your audience is important.  Start with how users experience and engage with your site.  Think about what they want to learn or do.  Start simple:  make a list of topics your prospects and customers want to learn about.  Make sure those topics are addressed in your site.  Remember, if they're happy and coming back, you're on the right track.
If your site's on-page SEO doesn't have keyword phrases (topic of the page) in the major locations listed above, start by addressing those areas.  If you have a large number of pages, work one section at a time.  Reread your content to make sure it's unique, helpful to your audience and specific enough for the topic of the page.  Making simple changes can produce significant results over time.
Save
Save