If you've got a Facebook page for your business, it's likely you're already aware of the upcoming changes to the way your information and images are handled by Facebook.  After months of speculation, Facebook made it official this month:  As of March 30 ALL business pages will automatically be rolled over to the new Timeline display.
While many are still writhing in pain (I have accepted the inevitable, but am still not thrilled with a few details)… there are a few bright spots in the new features for business owners to enjoy.  (Download a PDF with set-up highlights here.)
One of the principle advantages is the large cover image at the top. (this is the new, wide photo at the top of the page – see our company page here: http://www.facebook.com/17bluedigital) For companies with a little savvy, this is a great opportunity to highlight your company's image, look and culture.   But beware!  There are a few specific rules as to what may NOT appear in your cover image:
1. No web addresses, phone numbers or other contact information.
2. No Prices or Sales offers (ie: 50% off our baskets today is forbidden!)
3. No Calls to Action (ie: "Like our page" or "Call us today" are taboo.)
Violating any of the above can result in your page being shut down, so it's advisable to follow the guidelines carefully.
Pinning Please:  Another feature likely to please business owners is the ability to "pin" an important item to the top of the page.  This feature allows you to highlight a comment or post and keep it up in clear sight when your page loads.
Messages/Recommendations: Visitors and Friends can now message you directly from your business page and they can write recommendations on the page for others to see.  These features are likely to promote interaction, which is the principle point of having a Facebook page so they get 2 thumbs up from me.
Finally, you can also detail your company's history and character with Highlights and Milestones that span both columns of the new layout and provide the means to bring visual significance to important events, posts and more.   Here's a screen shot of our "10 Year Anniversary Celebration" milestone from 2010…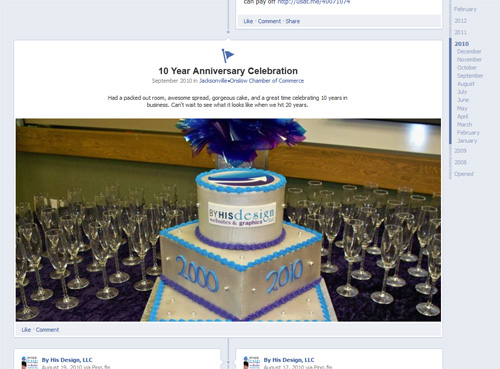 In short, while it's not quite perfect, it's got several nice perks in there for businesses to stand out and connect with their communities.   Brace yourself… March 30th is coming soon.  Timeline fan or not, it's time to get ready!
Save
Save