Pinterest has significant marketing value for businesses who connect visually with shoppers.  Although the image and video sharing platform has enriched their business offerings with specific tools to connect with customers and increase sales, most businesses have yet to utilize them effectively.
Here are six types of rich pins for business that you can put to work immediately on Pinterest for reaching readers, movie-watchers, travelers, shoppers or app buyers.  If you haven't rich-pinned yet, it's time to give it a whirl.
1. Product Pins
Product pins give retailers the opportunity to drive online sales traffic. They provide real-time information on pricing, item availability, and include a direct link to buy from your online store.  Product pins aren't limited to large businesses and brands.  If you have a small business selling products on Etsy or eBay, your Pinterest product pins will provide the same enhanced details.
If your store was built using the Shopify platform, any product picture you pin is automatically pinned as a rich pin.  Additionally, when users pin your item, they will receive an email notification if the pinned item drops in price. This means that a user who admired one of your items at a higher price will receive an automatic notification of price drops via Pinterest, encouraging them to complete the sale.
2. Recipe Pins

These pins are valuable on cooking blogs, recipe sites, restaurant sites, and food-oriented shopping sites. They provide a photo of the finished recipe, ingredients, cooking times, and serving information. These pins also update automatically, so if you change an ingredient in your recipe, your information will update instantly on your pin.
Recipe pins are branded with your website favicon and title, for a more polished look. These pins also make your recipes more searchable, since search filters are tuned to assist in locating specific types of recipes.
3. Movie Pins
Rich pins for movies are great for websites that promote, review or discuss films. They include content ratings, cast members, and reviews, to assist Pinners in learning more about new films. Images shared from Flixster, Netflix, and Rotten Tomatoes include additional details such as ratings, directors, and leading actors. Netflix and Flixster allow streaming, so users can start watching the movie right away.
4. Article Pins
Pinterest has over 6 million articles pinned everyday. Article pins include the story title, author name, a description and the source link.  This data helps users find and save stories of interest to them. When people discover articles they wish to read later, they can save them to their reading list board.
This type of rich pin is particularly useful for bloggers, content creators, and those developing photo-based "how-to" articles. Each of your articles should have an interesting image. If it's a how-to article, include a photo of the completed project for your Pin fans.
5. Place Pins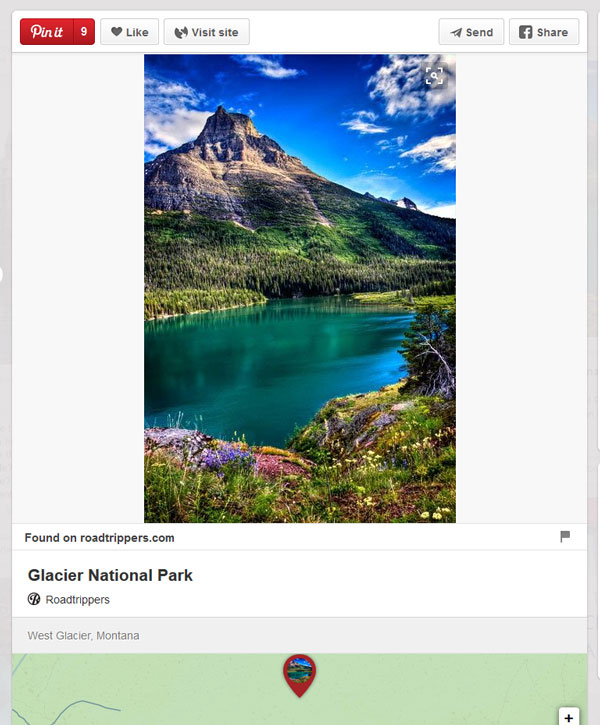 This type of rich pin is visually appealing and designed to help users locate new places to visit in their own city, or while traveling. They include a map, address and phone number.  They are particularly valuable for vacation and travel destination websites, but individuals are creating maps for all kinds of creative reasons and pinning their favorite spots.
Place pins are great for businesses looking to provide travelers with relevant information. Once you have a theme, title, and description ready for your compilation of pins, go to your Pinterest profile and click "Create a Board". Be sure to add a map – otherwise the board will look like an ordinary collection of pins. Save your changes, and start adding places to the board.
6. App Pins
App pins include an install button, so users can download your app without exiting Pinterest – making these pins a great way for developers to promote app downloads. Next to the typical "Pin It" button is a new "Install" button, with a "view this on the App Store" button beneath the photo. Users can view screenshots, read reviews, and browse related apps. Tapping the "Get" or "Buy" button from the details asks the user to authenticate and install the app as usual.
Pinterest is visual, engaging and easy to use.  People love to sort and share images and video.  These active users are converted into customers more quickly than with competing social media platforms. Rich pins aren't brand new, but they may be new to you.  With a simple bit of code, pins from your site can be rich pins.  Give it a try today.