Feedback and tracking are critical to know if ads your placing are resonating with customers. Facebook's built in split testing feature makes it easier to verify if your ads are going in the right direction. The tool allows you to verify the effectiveness of your ads using a specific campaign objective.  You can test multiple ad sets, see what strategies work best and use the results to make smarter campaigns for your target audience and goals.
Split-testing overview
Split testing can help you reach your audience and get better results.  It helps to know what split testing does and how it works.
Split-testing divides your audience randomly, so you have different viewers for each ad in the split test.  This removes audience overlap – the same users won't see both ads.
Each ad split is tested for ONE variable.  Other factors do not affect the split.  This helps to ensure accurate results.
Each ad in the split is given equal exposure and chance for impressions and actions.
Data is gathered by users (people) and it is gathered across multiple devices.  It's not based on cookies or other unrelated data or actions.
Ad performances are compared and the best performing ad "wins."
You are notified by email of split-test results.
Variables you can test:
Target Audience:
A target audience variable might test to compare results between "people ages 18-29" versus "people ages 30-45".  Or you might test "people in New Bern" vs "people in Raleigh."
Placements:
A placement test may compare mobile vs desktop or other placement options.
Delivery Optimization:
This variable tests different delivery optimization options like "optimize for link clicks" vs "optimize for conversions."
Creative:
Test ads with an image vs with a video or other creative variables.
Selecting a single variable for your split test ensures that you get reported results that are due to that ONE variable.  This is essential for testing integrity.  You can't prove placement was the factor that changed your conversions if you also used different images or  calls-to-action for each ad.
How to Set up a Split-Test for an Ad Campaign
If you haven't used the Facebook ad split-testing feature yet, here is a simple guide to get you going.
Step 1: Create a Campaign in Ads Manager
From the Ads Manager tab of your Facebook profile, select 'Create New Campaign'. Choose the objective that best suits your ad campaign.  Is your goal to to direct traffic to a website page?  Or conversions on your website?  Do you want to increase video views or generate leads?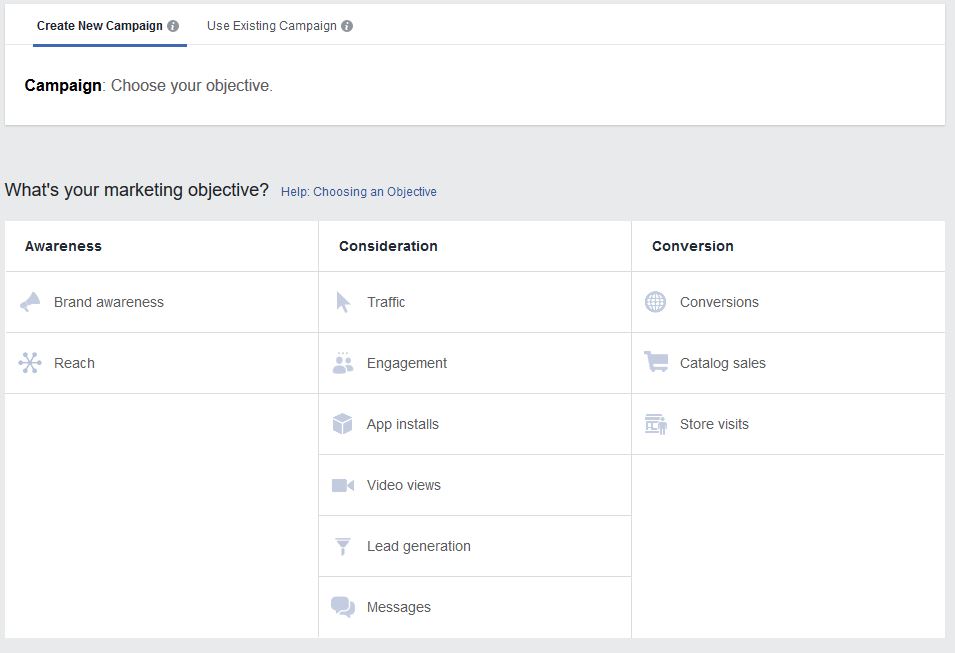 After you select your objective, scroll down to the bottom of the page where you can enter a name for your campaign AND check the small box (just above the name field) to "Create Split Test."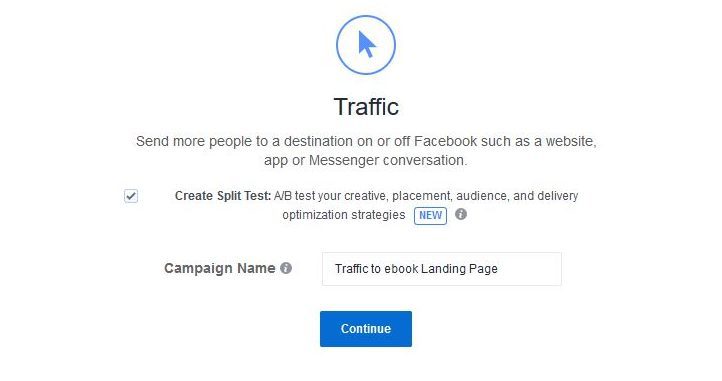 Click Continue.
Step 2: Choose your variable
Facebook will now give you a set of four variables to choose from to test in this campaign. You can test the effectiveness of your Facebook ads on any ONE variable. Options include Creative, Delivery Optimization, Audience and Placement.  Choose the variable you wish to test.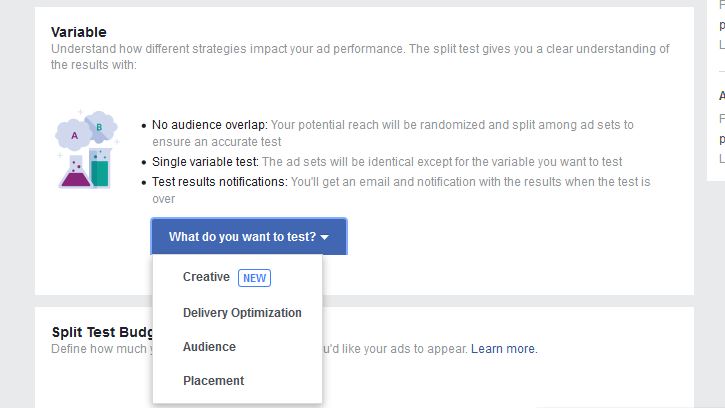 Once you've selected a variable, you'll see options for testing that variable.  For this example, I chose "audience" and the screen shot below shows the options to enter demographics for AD SERT A and AD SET B.  If you wish to test three sets, simply define the first two and click "Test Another Ad Set" at the bottom of the section.
You can set other ad campaign features like placement and optimization as normal.  They will be THE SAME for all tested sets.  Only the ONE selected variable will be split-tested.
Step 3: Set your budget and schedule
Now, choose a budget that suits your campaign goals.  Facebook will recommend a budget, but you can enter a larger or smaller amount.  Keep in mind that a budget that is too small will limit the number of responses and reduce the validity of your test.  For most tests, an even split between your ad sets will obtain the most accurate results. Next, specify the schedule length for your Facebook ad split test to run.  Plan for at least 4 – 14 days for your test.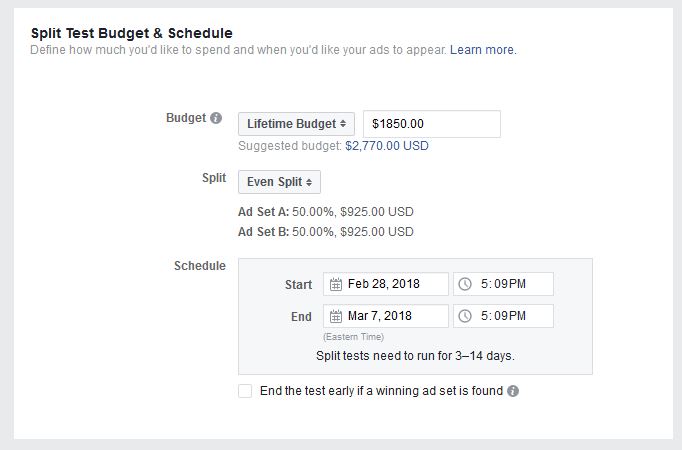 Click continue and put your adds together.  You're ready to launch your Facebook Ad spit test.   It may take a few steps, but you'll be able to determine what is most effective for your tested variable.  Test a few variables in individual tests and you'll be well-armed for your Facebook Ad campaigns to be more effective and fruitful.