11 Ways Military Training Correlates
with Business Success
If you're a veteran who is in business, or wants to be… you're in great company.  Period.
According to the Small Business Administration's Task Force on Veterans Small Business Development, veterans are 45% more likely to be self-employed than those with no military service. That translates to veterans starting businesses at a rate 4 times that of their civilian counterparts.  And veteran-owned businesses succeed at double the rate of civilian owned businesses.
Derek Bennett, the chief of staff of the Iraq and Afghanistan Veterans of America, says almost 50% of their veterans who have gone back to school are pursuing degrees in business.   CEO of Broughton Hotels and former Army Green Beret, Larry Broughton, points out, "Many of today's most prominent businesses, including Nike, FedEX, and GoDaddy.com were founded by vets."
So where does all this drive for business and track record of success come from?  It's most arguably the nature of military training that sets the stage for great success in business.



Photo by GySgt Rome Lazarus.
All branches of the military have strong training programs that are based on virtues, values and practical leadership experience needed for success in the battlefield.   But since we're privileged to live and work with United States Marines on a daily basis, we'll proudly use the US Marine Corps' published Leadership Traits and Principles as our standards.  Marines operate on the premise that every Marine is a leader:
---

"Every Marine is trained to act instinctively and effectively, regardless of the situation."

---
Perhaps it's this intrinsic recognition of the value of instinct and effectiveness that is at the heart of success in battle, at home and in business.   Perhaps it is the expectation that individual leadership development translate into service over self for a greater cause.  At the broadest level, who could argue that HONOR, COURAGE & COMMITMENT aren't priceless in the quest for entrepreneurial success?   However you look at it, the leadership principles in military training are a strong set to bring to the business world.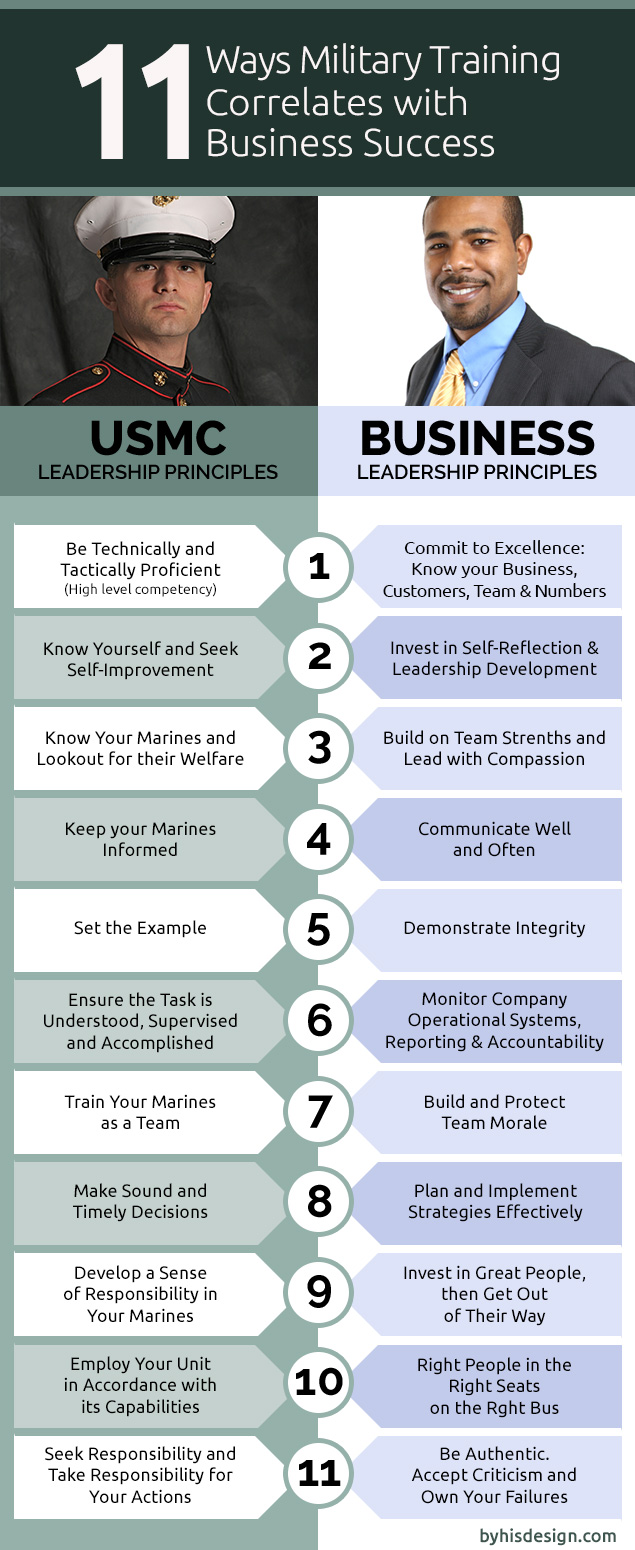 It doesn't take a huge amount of analysis to see the obvious benefits the training, discipline and dedication of military service.   Veterans bring these strengths to their leadership roles in the business world.  They are prepared to stand in the face of the risk, uncertainty and challenges of an entrepreneurial climate.
---

"This could be because military training develops organizational skills and risk-tolerance."  — Thomas J. Leney

---
Thomas J. Leney is the Executive Director for Small and Veteran Business Programs at the U.S. Department of Veterans Affairs.  The SBA has resources available to help veterans start and grow their businesses.  And Vetbiz.gov offers additional information and assistance.
Do you use a military background to help navigate your business journey?  How?

Save
Save