Knowing What a Rebrand Entails
As a business owner, knowing when it's time to rebrand can be critical. It's a complex decision with lasting consequences. But what does rebranding entail?
A rebrand is more in-depth than creating a new logo or revamping a name. The purpose of a full rebrand can be to align or adjust a company's vision, message, identity and customer perceptions. Doing this may include a new name or logo, but what's most significant is how the company interacts with audiences and how it's perceived moving forward.
Some business rebranding efforts are successful while others fail to achieve their desired outcomes. To avoid missteps, you need to be confident that rebranding is the solution to the business challenges you're facing. You don't want to overhaul your entire brand if launching a fresh marketing campaign will serve your business just as well.
Start with a Brand Audit
Review our 17 Point Brand Inspection as a part of your process in considering a rebranding effort. A brand audit is conducted to evaluate current communication with your audience and find opportunities to strengthen your brand position in the marketplace. The audit is intended to provide tools and strategies for establishing a stronger brand by reviewing what currently works and what doesn't.
Conducting a brand audit may also uncover issues and opportunities outside of traditional branding efforts. It may point out areas for improvement that will help you reach your goals, whether it's time for a rebrand or not. Many times, brand audits reveal areas where a few adjustments can make a significant impact in market relations and sales. A complete recreation of your brand identity is rarely the objective, but there are situations where it becomes needed.
Common Signs it May be Time to Rebrand
Your business model has changed
You've scaled, moved, or expanded
Your market position or market share is slipping
You're transitioning to a higher quality product or service
Your current branding efforts are outdated
You've merged with or acquired another company
You're trying to reach a new audience
Your reputation has been damaged and a "fresh start" is needed
---
---
Risks to Consider
As with most things in life, a rebranding effort can present benefits and risks.
If you plan on changing your business name or website domain, you'll have to address technical SEO (search engine optimization) concerns before launching your new name to make sure you don't lose the search history and domain authority you have in your existing one. This is not difficult to manage, but it's a critical step – don't skip it!
Rebranding should wake-up customer interest, not cause confusion for your existing customers. Plan a series of announcements about changes that are coming. Give customers time to adjust. Addressing this process will have a direct impact on your time and marketing budget. If managed well in advance, it will make the rebranding process go much smoother.
Is rebranding right for you? Will the reward be worth the risks? If you find what your brand communicates no longer resonates with consumers or the marketplace, make a change. Our 17 Point Inspection brand audit will help you determine if this is the right course of action for your company at this time. Whether you decide to redesign your brand or make simple changes to your marketing efforts, it's an exciting time for your business!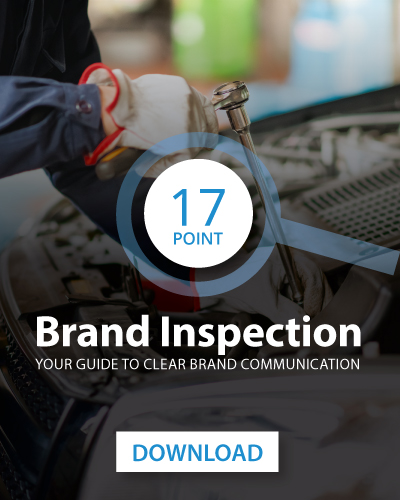 Don't go it alone. We're here to help.
---