The ultimate goal of marketing is [still] increased sales.
The tactics and delivery systems have evolved over the years, but it still ultimately comes down to sales. When you invest in marketing, you expect to get somewhere. Content marketing is a process that produces sales traction and revenue through consumer engagement, data and iteration.
Many businesses struggle in understanding how content marketing cycles actually work with what they have learned about the buyer's journey, sales funnels, and sales actions. The diagram below demonstrates how the Content Marketing Cycle works.  It also helps illustrate how it drives the sales process, merges with sales team actions and improves results based on feedback.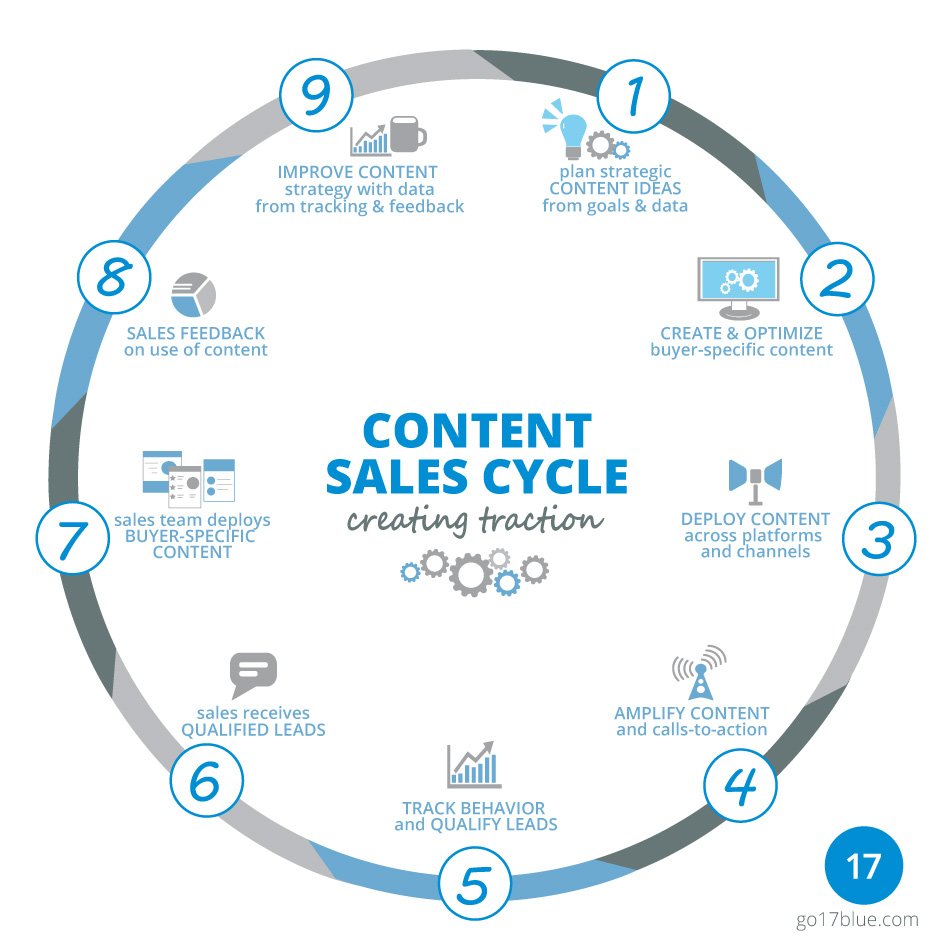 Plan • Create • Optimize • Deploy
Steps 1 through 3 leverage insights from buyer personas and sales data.  Content is planned, created and optimized to address prospects in various stages of the buyer's journey: 

Amplify • Track • Qualify
In Steps 4 and 5 marketing content is amplified and interactions are tracked across channels.  Platforms and Calls to Action are determined for consumer engagement. Consumer actions trigger more opportunities.  Marketing automation software enables personalization and dynamic delivery throughout the buyer's journey.  Lead scoring provides key intelligence in content offers and reporting to sales teams.
Sales Leads • Sales Actions • Sales Feedback
In Steps 6 through 8 sales team members act to further personalize experiences, encourage conversions and close the sale. Data is collected throughout the entire process.  By Step 9, marketing data is incorporated into future planning.  This improves efficiencies, engagement and sales conversions.
When businesses understand the value of integrating marketing teams, content development and sales teams, they produce significant growth in sales and greater returns on investment.
Need help?  Learn more about content marketing or schedule a conversation with our team.
Save
Save