The inbound marketing methodology is a systematic and scalable approach to marketing in a digital, on-demand world that has many variables.  It's an approach that allows your company to provide the right information to the right person at the right time.   This greatly increases the effectiveness of your marketing efforts and advertising budget.  In our agency, we affectionately say it's 'Method over Madness.'  In this article, we'll take a look at how you can overcome the marketing madness and fine-tune your strategy for consistently greater results.
A Glance Back at Madness
For years, running marketing campaigns for business meant writing big checks for advertising and hoping they worked.  Because systems ran in isolated environments, data was hard to collect, often conjecture, and lot was left to chance.  Companies were sold views and impressions with little or no regard to lead conversion rates or outcomes.  That's an expensive way to operate and grow a business.
The Method in Concept
Today, attracting qualified customers when they are ready to learn, chose and buy is critical to accelerated and long-term growth.  Customers want real-time answers, original content and they want it at 2am when they can't sleep… or at 6:30 am on their commute.  They want full access from their phone or tablet without loss of quality or usability.
Marketing starts and ends with your customer in mind.  The Inbound marketing approach not only makes this possible, it makes it intelligently possible.   Targeted content marketing together with marketing automation, tracking and monitoring allow you to appropriately respond to consumer actions.  This intelligence helps you gauge progress and meet goals as prospects become leads and sales are closed.  You can systematically attract the buyers you want, meet their desire for quality information, and nurture leads to sales with solid data along the whole process.
A Few Data Points:
91% of B2B marketers use inbound/content marketing.
86% of B2C marketers use inbound/content marketing.
Inbound marketing costs 62 percent less than traditional marketing and
generates about 3 times as many leads as traditional marketing approaches.
80% of consumers appreciate learning about brands through custom content.
The Method – Meet the Buyers
The process follows a clear linear flow as you attract visitors, convert leads, close customers (sales) and delight them into promoters.
In each of the 4 phases of the inbound method, it's important that your business speaks to a specifically identified persona.  A clear understanding of who your most profitable client is, and knowing what they want, need and desire is critical to your success at every stage.
Related:  Learn about identifying your best buyer persona.
NOTE:  We often hear small businesses say "we want to sell to everyone."  While it's true you may not want to turn anyone away, it's not true that you want to market and sell to "everyone."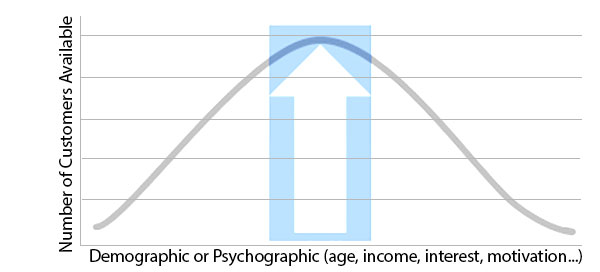 Think of buyers on a bell curve. You can sell some to the left or to the right, but you will always get the highest returns if you're aiming down the center where there are more qualified buyers available.
The Method – A Process Visual
Remember the phases:  Attract, Convert, Close, and Delight.

At the bottom of each phase on the diagram above, you see the specific tools you can employ to reach your audience with your original, high-quality content. 
Attracting Visitors
At the Attraction phase, the focus is on providing quality content that is optimized for your audience.  This happens first on your site pages and blog.  If you don't have a business blog, we recommend developing one.  Here are a few stats for you to consider.
Blogs add 434% more indexed pages and 97% more indexed links to websites.
Blogs are 63% more likely to influence purchase decisions than magazines.
Blog entries and site page content are optimized with consumer-focused long tail keyword phrases.  Simple keyword tools online can help you determine the best keyword phrases you can achieve rank for first.   Once you have content planned and in creation, begin to promote it out through other channels to amplify it's reach.  This often involves the use of Social Media Marketing and Email Marketing.  You might couple this content sharing with other promotional efforts as well.
Converting Leads
Once you have content that is attracting visitors, you want to convert them to leads. They want your expertise, you want their contact information. The method of choice for facilitating this informational transaction is the Landing Page.
Landing pages have been proven for awhile, but many businesses fail to incorporate them successfully into their strategy.  A landing page is simply a page the visitor "lands" on when they click through a Call-to-Action (CTA) for an offer.  (Hint: this page has 2 CTAs – can you find them?  : )
When you click on any of our CTAs, you will see one of our landing pages.  They are clearly focused on one content offer.  They should include a keyword optimized title, a description of what to expect in the offer, a visual (picture related to offer) and a form.
Closings Customers (Sales)
Once your visitor completes the form on a landing page, they are considered a lead and are added to your contacts for additional offers and contact options.  It's important to plan the workflow – or communication path – that a lead will experience.  Depending on the level of offer and information you have about the lead, you can segment your leads by criteria and customize a plan for their interactions with your company.
For example, a visitor who download a basic "how to" checklist is probably looking for top-of-funnel information and not expecting a phone call from you 5 minutes later.   However, a visitor that fills out a form for a Free Assessment or Demonstration, is likely ready to explore deeper and will expect a direct contact from your company.  You can plan a path to nurture leads along the sales funnel (buyer's journey).  Automation makes follow-up easier to manage, and consumers can opt out whenever they wish.
Delighting Promoters (Fans)
Once you close a sale, it's critically important that you deliver the goods as promised!  Make every effort to take great care of your customers during the sales and transaction processes.  But if you take it a step further and continue to engage them appropriately with content through emails, offers, social media and events, you can delight them right into being a strong promoter of your products or services.
Communication after the sale is very important and deserves it's own attention to automated workflow development.
Inbound Methodology Wrap-up
Inbound marketing has four simple phases, but quite a few moving pieces.  Don't be overwhelmed.  Start with the first steps of the first phase and build out from there.  Campaigns and workflows take time to develop, but can generate long-term benefits for years to come.
If you're wondering about the cost of managing inbound marketing internally versus the option to outsource content marketing, you can get some interesting details in this article:  Real Stats on Content Marketing – Hire or Outsource?
Save
Save
Save
Save