Social media is one of the most powerful tools of marketing available to businesses today.  It's popular from micro-business to major corporations.  Why?  The most obvious reason is social media is where the customers are.  It's also easy to use, low cost compared to other marketing channels and most platforms have very intuitive tools to reach the audience you want through intelligent targeting and demographic data.
Social Media Tips for Effective Social Media Marketing
● Interact Regularly with Customers
Remember the beauty of social media is in the personal touch.  This (like all business) is about people. This is a key factor in your marketing success. Regular interactions with followers and customers on social media platforms, builds relationships and trust with those who know you and also expands your visibility and reach.  Your audience will see that your business is genuinely interested in its customers' concerns. That's a big win for customer service and brand loyalty.  Active channels also create a sense of engagement and success in the eyes of your audience.  Success breeds success, so stay active.
● Master the Right Platforms
While you do not want to limit yourself to only one social media platform, you will also waste time if you try to master them all.  Not all social platforms have the same kind of audiences or business tools.  You should make your presence felt everywhere your customers are active, your interests intersect and where you see long-term returns for your participation in loyalty and in sales.  Exploring and developing new social platforms that fit will open up new channels between your company and your prospects and customers.  The goal is to be where your prospects are.  If they are on YouTube and Instagram, you should be too.  If they are bailing out of SnapChat or Vine, why invest your time and money there?
● Don't Sound Self-Obsessed (Me, me, meeeeeee!)

Some businesses make the mistake of blowing their own trumpet too often on their social media channels.  You definitely need to believe in your company and your value, but hogging the microphone and making it a megaphone is a sure-fire way to alienate and disengage your crowd.  As a business, you must learn the subtle nuances of marketing yourself in a social environment with a light touch.  Avoid sounding pushy and self absorbed.  We typically advise clients to reference the Pareto principle here – the 80/20 rule.  Focus 80% of your content on the audience and their needs, focus 20% of your content on your value and offerings.  "You, you, you"… "not me, me, meeeeeee!"
● Have Experts on Your Team for Social
As your online presence grows, it may be difficult for you to give adequate attention to your social media accounts yourself.  Effective social media marketing requires time and attention.  Successful growth also requires knowledge, research and experience.  Your channels will need strategy, consistency, interaction, branded images, and more media.  You have a business to run.  Trying to be the jack of all trades can literally make you the master of none.  Social media management is a high-trust role.  A misstep is very public and can be very painful.  Make sure you have qualified experts on your team to assist you with your social media accounts.  Hire, partner or outsource, but have a team in place to help you continue to build momentum and grow your business.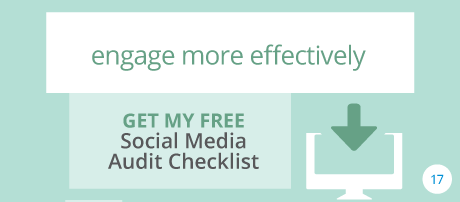 ● If You Promise, Deliver
Whether it's a response to a comment, a mention or a review, if you promise something to your customers – remember to deliver!  This is where having a team in place for monitoring can be helpful in managing details across platforms.  Mistakes can happen.  But always do your best to fulfill your promises and address customer grievances, no matter how small.
● Post Quality Content
Never post just for the sake of filling your timeline or page.  It's true in other areas, but also in social media platforms:  QUALITY matters more than QUANTITY.  Your account can have fewer posts, especially if it has higher-quality posts.  Remember the first point on this article – don't disappear and stay gone.  The first point in this article was to be interactive!  But cramming your feed with irrelevant or poorly constructed content is not the goal.  Businesses are always more successful when the content they post is useful, interesting and of value to your customers.
● Avoid Hot-Buttons

When in doubt, just don't.  Don't post or comment on controversial, political or other sensitive issues – even if you are convinced your opinions are right. Misunderstandings and assumptions about them can seriously tarnish the reputation of your business.  And no matter how justified you feel in the heat of the moment, never post an angry rant.  This is true on your business page, but it is also true in your personal account – especially if you are attached to the business as an owner, manager or client-facing employee.  An angry rant makes you look bad, and you looking bad makes your company less trusted.  Stomp your feet at home. Vent in private.  Social media is viral in nature and not the place to air the "dirty laundry."
When used wisely, social media can be a significant catalyst for business branding and sales. Take the time to invest in your social media accounts and you'll begin to reap the benefits.