Local SEO has been around for a bit, but it's now more important than ever. If you're a local business without a local SEO strategy, you're missing out. To help you with your local SEO efforts, we've created this brief, helpful guide.
Local SEO Defined
Local SEO (search engine optimization) involves optimizing your website to rank better for local audiences. Often thought of for local brick-and-mortar businesses, the goal of local SEO is to help customers find your location, products or services when they're searching in your area. Often this includes optimizing for your city name, address and service areas. This strategy can include "offline" tactics as well.
General SEO vs Local SEO
The difference between these two lies in optimizing for the user's the intent. If a user is looking for information that may not be tied to a specific location for a purchase, their purchase intent isn't clear. For example, a search for "how to floss teeth" is not the same as "dentist near me."
When a person searches for "dentist near me," their intent is clear. They are looking for a local dentist in their immediate area. This prompts local search results.
Why Local SEO is Important
If you have a business with a brick-and-mortar location, or one that provides a service in a local area, local SEO is essential.
A study by Forbes indicated 95% of smartphone users perform local searches using their device, 61% call a business and 59% visit. Another study by SearchEngineWatch, found that 70% of mobile users click to call a business directly from within Google search results.
If 60-70% of users are contacting local businesses directly with smartphones from location-based searches, location-based SEO merits attention.
Getting Your Business on Google's Local 3-Pack
One of the most coveted spots when it comes to search engine results is Google's local 3-pack (also called rich cards). Local SEO can help your business appear in this block. The Google local 3-pack is displayed in a Google search under with local intent and shows a block of three to four business listings under the map.
The information that is pulled for the local pack comes directly from your Google My Business profile (GMB). If you appear in the Google local 3-pack, your business hours, review rate, NAP (name, address, phone) and call button are immediately available to the user. For this reason, optimize all these elements properly. Below is an examples of 3-pack results for "dentist near me."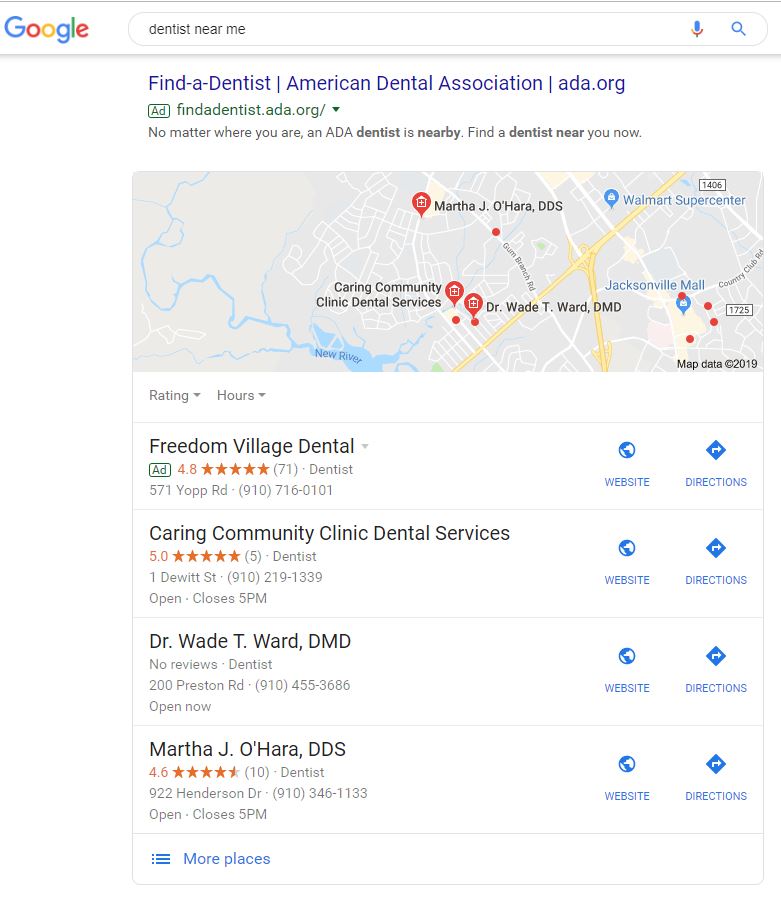 44% of local searchers choose a business on a local 3-pack listing, while 8% load more results (Moz). Holding a spot in the local 3-pack can effectively increase your traffic and sales leads.
GMB's Top 3 SEO Ranking Factors
According to Google, there are three important factors into consideration when processing local search questions:
Relevance: First on the list for a reason. Does your site content match what the user is searching for? Step one: Choose an accurate business category in GMB and complete a detailed profile. Step 2: Optimize your website's pages accordingly.
Distance: These are location-based searches, so your proximity to the searcher is an important factor for results. You can't do much about where the searcher is compared to your business, but you can be sure you've optimized for the locale. Include your city name in some key word phrases in the information on your site's pages.
Prominence: This involves variables related to credibility and how well-known your business is locally. Add images to your GMB profile, ask for reviews, develop inbound links and ensure your site offers visitors quality content that is useful.
Local SEO Checklist
There are many ways to optimize your site. Here's a checklist of key items to address for local search.
Complete and Optimize your Google My Business Profile.
Optimize URL, Title Tags, Headers, Meta Descriptions, and Content on your website to include locale name(s). Be careful to keep it easy-to-use for visitors.
Check your Internal Linking Structure. Do you have links between pages? What anchor text (text in the link itself) are you using? Optimize the anchor text.
Add Important Location Pages to Your Website
Create Content specific to your locale.
Make Sure your Website is Mobile-Friendly. Check Google's free Mobile-Friendly Test.
Optimize Online Directory Listings and Citations
Build Quality Inbound Links
Engage on Social Media
Use local "off-line" methods to reinforce your web address' visibility in the local market. For example, list your web URL on rack cards or signs in your local market.
Conclusion
Local SEO has many elements to help you reach folks near your business. The combination of these factors make local SEO effective. A little effort to optimize them can yield great results through improved local search rankings and greater visibility for local buyers.