A massive social network with 400 million monthly active users, Instagram is a smart place to interactively promote your brand.  We're highlighting eight ways to get the most out of the platform for your business:
Navigate The App
If you're new to Instagram, start by installing the app on your mobile. The first time you run it, you'll be prompted to either sign up or sign in. There are five buttons spanning the bottom of the screen:  Home, Search, Camera, Activity, and Profile:

Immediately above the major navigation icons are quick action icons:  click Heart to favorite a post, the conversation bubble to comment, and the Forward arrow to send a post to someone you know.  Of course, "…" opens up a few more options.
Learn more about getting started in Instagram: Instagram 101
Have a little Fun!
Instagram is designed to be interactive and engaging.   Connect with your audience and share creative content they will enjoy.  Look for opportunities to share insider moments, a "sneak peek" or fun social events like a company party or event you're attending.  A little planning can turn a party or event into a chance to invite your customers and fans into the the lighter, human side of your business, and encourage interaction.
To promote parties and social events on Instagram:
Create a hashtag for your event
Have a goal in mind for sharing it. Think about the purpose behind the event – is it a product launch,  a charitable cause or anniversary celebration?
Begin promoting the event hashtag with related photos before the celebration. Share planning meetings, decor/themes, your team at work… reinforce the purpose.
On the day of your party, post fresh "live" photos using the event hashtag.
Follow 'em Back
Pay attention to your followers, and follow them, in return. "Heart" their pictures, and encourage them to share your photos and your page.  Once you've established a solid following, feature their photos by encouraging followers to use a hashtag – or tag your Instagram handle – when posting a picture.  Remember to give them credit for the photo.  If someone reaches out to you by sharing your content or commenting on something you've shared, thank them by following them back and you might earn a bigger brand advocate.
Share Videos
Take advantage of Instagram's filters and editing tools to enhance the quality of your video content. Both photos and videos can be re-purposed to other social media sites from time to time. To create the best user experience, make some of your content exclusive to Instagram.  Boost the popularity of your Instagram account by including a video on your website, and asking visitors to follow your account for more exclusive content.
Don't Over-post
There's no need to add content to Instagram every day.  Actually, if you post too often it may annoy your followers by over-saturating their feeds. Create a schedule to help you remember what to post and when to post it.  Track you post interactions and feedback. If your followers begin to favor particular images, be flexible in your planning and adjust to fit their liking.
Start by posting 3-4 pictures per week, then ramp up as you build a following and greater interaction. Too many images can be a negative thing – emphasize quality over quantity. Posts are intended to be short and visual.  Longer text can cause users to stop following.
Be Creative In Visuals
Instagram has a variety of filters and photo editing tools to help you create high quality images quickly and easily. Spice up your images with text overlays, or create unique image collages. Use your pictures on marketing content to give customers real insight into your company. With just a few clicks, you can create a whole new style for your mobile device pictures. Ensure that you have a good backdrop, experiment with interesting props, action shots or group shots. Natural light is a great asset whenever available.  Here's a creative example of NikeWomen reaching out with creative flair for their fall athletic wear in their own unique "Just Do It" style!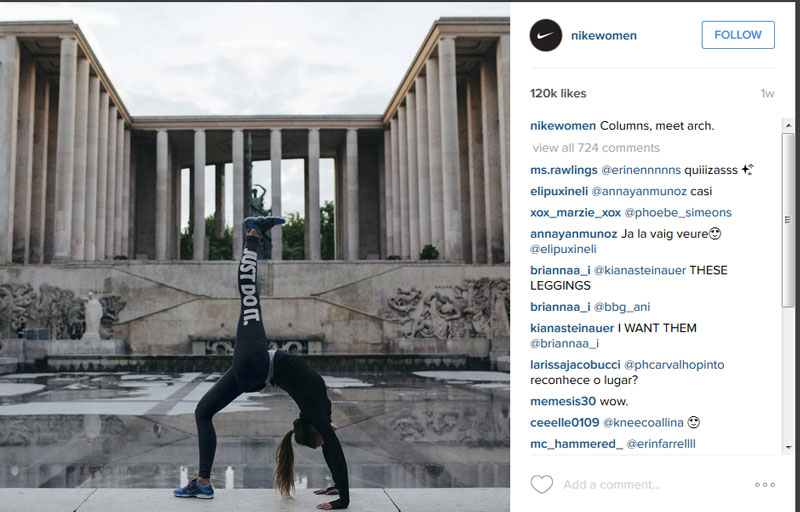 Use #Hashtags Wisely
Your objective on Instagram is to engage your present audience while increasing your following. Entertaining images will intrigue your existing audience, but you'll need to use hashtags to increase your reach. If you use hashtags well, you're far more likely to reach new users when they search for those specific terms. Comments and interaction is greatest on Instagram posts with multiple hashtags… 5, 10 or even more of them!   Always be descriptive and specific with hashtags.  The Instagram app will prompt you with common hashtags when you start typing #…
Geotag Photos
Attract Instagram followers by geotagging the photos you post. This feature allows you to add your location to your photos when posting them, creating a photo map of your posts. This is especially useful if your business is local, location-based, or travel-related.  It can also be a lot of fun if you travel frequently for your brand.  Since visitors can select geotagged locations and view all of the posts in that area, this can be an effective way to attract new followers in a specific geographic area and increase engagement. To use this feature, be sure that your camera has location services turned on.
Whether you've been on Instagram since its inception – or you're just getting started with the platform – If you're willing to have a little fun with photos and videos, you'll discover great opportunities to tell your story in a way that will reach – and resonate with – your audience.